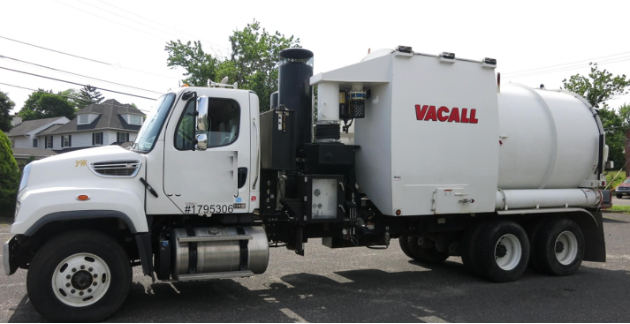 24 Feb

How to Keep Your Property Clean with the Vacall AllVac: Insights from a Vacuum Truck Service Company in Elgin, Illinois

It doesn't matter whether it's an industrial site, a restaurant, or otherwise — if it's a commercial property, it needs to be kept clean. Of course, cleaning up large areas like these takes time. As such, it's ideal to use an ultra-efficient cleaning machine, like the Vacall AllVac.

The Vacall AllVac is a vacuum truck that offers a variety of useful features. Are you interested in learning more about it? This vacuum truck service company in Elgin, Illinois is going to discuss below.
A Variety of Beneficial Features
There are many vacuum trucks on the market today. However, the Vacall AllVac outperforms all others. Here's why:
Highly Efficient Filtration System
The mechanism that separates the AllVac from its competitors is its highly efficient filtration system. This system consists of a variety of entities, which includes everything from dual pre-filters to an air cannon cleaning mechanism to a series of filtration bags and more. All these elements work together to create the most efficient filtering system possible.
The role of the pre-filters is to ensure that materials aren't coming into the system with the vacuumed air. The pre-filters keep the bag house clear, ensuring its cleanliness over time.
The air cannon is important in that it ensures the consistency of the filtration system. In other words, it allows the system to work continuously as its being operated by your vacuum truck service company in Elgin.
The purpose of the filtration bags is to ensure maximum air volume within the blower mechanism. These bags allow air to come through at full capacity, while also making sure the system isn't being contaminated by external stimuli.
Powerful Blower Mechanism
Not only does the AllVac have a highly efficient filtration system, but a powerful blower mechanism as well. This mechanism produces up to 28" Hg of vacuum power, as well as 5760 CFM of air volume. In essence, it offers more than enough power for any job that requires a vacuum truck service company in Elgin, Illinois.
Not only does the blower enable the machine to pick up everything in its path, but it also ensures consistency. As such, the machine very rarely misses contaminants.
Poured-in Gaskets
The gaskets on the AllVac truck are poured-in, allowing them to withstand not only physical trauma, but corrosive effects as well. As such, they're capable of lasting years and years without needing to be replaced.
Oversized Dump Chutes
Another notable element of the Vacall AllVac is its oversized dump chutes. These enlarged chutes are rounded to allow the vacuum to take in all sorts of items. They are also removable for easy cleaning.
Its User-friendly Tailgate
The final component we're going to discuss is the AllVac's user-friendly tailgate. This tailgate makes use of a hydraulic system so that it can be opened and closed with ease. Designed to resist leaking, it's built to last for decades.
A Range of Cleaning Possibilities
Perhaps the most beneficial part of the Vacall AllVac is that it can handle a range of different substances. It doesn't just stop at dry substances like dust and dirt; it can also handle substances such as acidic chemicals and waste sludge.
Any professional vacuum truck service company in Elgin, Illinois can use this machine to clean large areas in one fell swoop. Since there's no need to be cautious about what the machine is vacuuming up, they can focus on getting the job done quickly.
Looking for a Vacuum Truck Service Company in Elgin, Illinois?
Now that you're aware of the benefits that come with using the Vacall AllVac, are you looking for a vacuum truck service company in Elgin, Illinois that uses it? If so, GreenLine Environmental Solutions is the company to call.
With our highly trained operators and state-of-the-art equipment, we know how to get the job done safely and correctly. Contact us today to discuss your project.