Environmentally-Sound Grease Trap and Catch Basin Cleaning Services in Chicagoland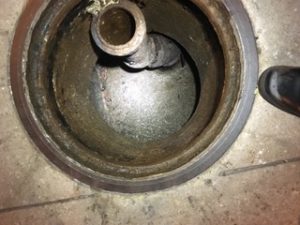 Grease traps can be a hassle for residential property managers and food processors if not cleaned regularly. Grease trap maintenance performed on a routine schedule keeps drains flowing smoothly, preventing costly backups, and keeping your property or business running smoothly.
Grease traps are engineered to stop fats, oils or grease (FOG) from entering the sewer lines. Left unchecked, FOG cools, then solidifies and sticks to the inside of the pipes, trapping food particles and other debris. Over time, this solid mass continues to grow until it obstructs the flow of waste water and causes sewage to backup. The easiest way to solve this problem is to prevent FOG from ever entering the sewer system. Grease traps are effective in controlling FOG.
Grease Traps provide protection as they are designed to retain FOG. Since they hold quantities of captured FOG, grease trap maintenance must be performed frequently. Most municipalities require regular grease trap maintenance or cleaning. Depending on the trap size and your property or business volume, more frequent service may be necessary. MSD, Local Municipal Sewer Districts, Local Health Boards, and Environmental Regulations have specific requirements for compliance. Greenline Environmental Solutions job is to help you maintain compliance, without interruption to your daily business activities.
Catch basins and grease traps are a vital component in any drainage system. Regardless of whether that system is private or public, without well-functioning catch basins and grease traps, it will flounder.
Simply having catch basins installed is a good start. However, if your catch basins and grease traps are going to do their job correctly, they are going to have to be cleaned and maintained. Failure to clean and maintain your catch basins and grease traps can have some serious negative consequences.
Who can you turn to when you need catch basin & grease trap cleaning services in Chicagoland? The good people here at Greenline Environmental Solutions have you covered.