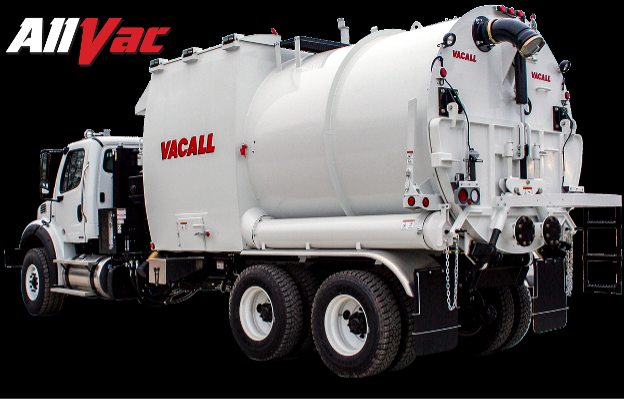 24 Jan

How Can Your Property Benefit from the Vacall AllVac? Insights from a Vacuum Truck Company in Bedford Park, Illinois

When it comes to industrial and municipal cleanup projects, there's no better option than to hire a professional vacuum truck service company. But that's easier said than done — in fact, there are many different vacuum truck companies to choose from today. However, the best and most experienced companies make use of the Vacall AllVac.

Are you wondering how your property can benefit from this powerful machine? This vacuum truck service company in Bedford Park, Illinois is going to explain below.
Leaves the Area Spotless with Its Powerful Blower
The Vacall AllVac comes with a super-powerful blower, which allows it to vacuum up just about everything in its near proximity. It doesn't stop at dry substances like dust and dirt — it also picks up wet substances like chemicals, sludge, waste, and more.
Its blower mechanism produces up to 28" Hg along with 5760 CFM of air volume, which is made possible by a highly effective air filtration system. In essence, by partnering with a vacuum truck company in Bedford Park that uses the AllVac, your entire property will be left spotless.
Optimizes Performance Efficiency with Its Complex Filtration System
The AllVac's filtration system is vital to its functionality. This high-efficiency system utilizes not only an air cannon mechanism, but combo pre-filters and bag filtration technology as well.
While the air cannon allows for powerful and continuous use by your Bedford Park vacuum truck company, the combo pre-filter ensures that no exterior substances are making their way into the blower system. Meanwhile, the bag filtration system allows for optimal airflow while preventing internal contamination as much as possible. The result is ultra-clean air, which allows for a powerful blower.
Keeps Operation Simple with Its User-Friendly Tailgate
Unlike some vacuum trucks, the Vacall AllVac requires only one person to operate it. This is because the truck's tailgate is designed to be exceedingly user-friendly.
The platform on the tailgate, as well as the ladder that leads to the platform, is equipped with a high-traction surface. The tailgate itself is opened and closed with the help of a hydraulic system, which allows it to be operated by individuals of all strength levels. The hydraulic system provides ample support to the user, greatly reducing the tailgate's weight.
The system is also leak-proof, which guarantees it will never cause a mess. This allows the job to be completed by a reputable vacuum truck company in Bedford Park as quickly and efficiently as possible.
Greater Durability with its Heavy-duty Construction
The Vacall AllVac is built to withstand years and years of regular use. This is due to its heavy-duty and technologically sound construction.
Its dump chute is made from pure steel, and it's purposely oversized to account for even the largest of solid objects. As such, it very scarcely takes on any internal damage.
In addition, its gaskets are poured-in, making them highly resistant to tearing or leaking. Even when exposed to abrasive substances like acid, they will prevail.
The truck's exterior is made from steel as well, allowing it to withstand abuse from rocks and other objects that get kicked up from the road. In short, this truck has lasting power, and plenty of it.
Looking for a Professional Vacuum Truck Company in Bedford Park, Illinois?
Are you interested in benefiting from the Vacall AllVac? If so, and if you're looking for a professional vacuum truck company in Bedford Park, Illinois, you've come to the right place — GreenLine Environmental Solutions is the company to call.
We use the Vacall AllVac to carry out our vacuum truck services throughout the Bedford Park area. Contact us today at (800) 755-2510 to learn more about the benefits.