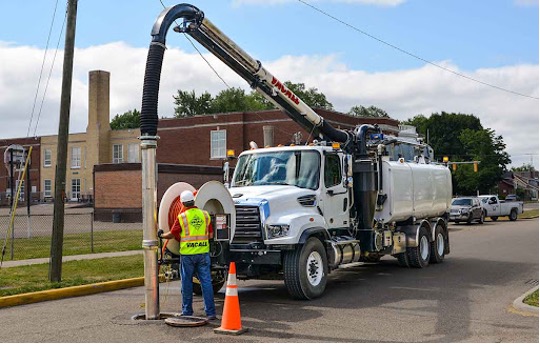 24 Sep

Understanding the Advantages of VACALL All JetVac: Insights from a Hydro Jetting Company in Chicago Heights, Illinois

It doesn't take long for a sewer line to get dirty. Within a year or so, a sewer line can be subject to countless clogs and blockages, all of which can eventually result in a sewage backup. As such, it's important for property owners to clean their sewer lines on a regular basis.

There are several different ways to clean a sewer line. You can use rods, or you can use a metal snake, for example. However, the quickest, most efficient, and most thorough way of cleaning a sewer line is to use a hydro jetting device.

While there are many great hydro jetting devices available on the market today, the best hydro jetting companies in Chicago Heights, Illinois use the VACALL All JetVac to get the job done. We're going to discuss the advantages below.
How Does the VACALL All JetVac Work?
The VACALL All JetVac is the best sewer cleaning machine in existence today. Equipped with a long, narrow hose, it's sent down through dirty sewer lines as it shoots out a stream of high-pressure water. In doing so, it breaks apart tough residue, eliminating clogs and leaving the sewer line as clean as possible.
The hose is sent down to the very end of the sewer line, then it's slowly brought back up. On the way up, it continues to spray water the whole time, breaking apart remaining portions of residue, and vacuuming them up as soon as they become loose.
The vacuum leads to a storage receptacle located on the top of the truck. This receptacle holds the debris in place until it's ready to be disposed of in the proper channels. When it comes to hydro jetting services in Chicago Heights, the VACALL All JetVac makes the process as simple as possible.
Taking Advantage of the VACALL All JetVac
The VACALL All JetVac offers several advantages. These advantages include (but aren't limited to) the following:
Ability to Clean Quickly
Hydro jetting in Chicago Heights, Illinois isn't always the quickest process — especially when you're poking and prodding with long, metal rods. This is where the All JetVac comes in. Due to its high-pressure water stream, this machine can quickly break apart sewer grime on impact.
As the hose makes its way through the sewer line, it vacuums up stray debris, instantly eliminating any blocks and clogs within the sewer. When the line is pulled back up, it continues to spray and vacuum, polishing the line and making it as clean as possible.
Leaves Little Mess Behind
One problem you may encounter with many forms of sewer line cleaning in Chicago Heights is that they leave a mess behind. This is because it's sometimes difficult to remove sewer cleaning entities from the sewer line without exposing them to parts of the property.
The All JetVac, however, can be removed without leaving any mess behind. This is because it transfers sewage residue straight from the hose to the storage tank.
Affordability
Hydro jetting companies in Chicago Heights that use the All JetVac can offer more affordable rates for their service. This is because the process can be completed much more quickly than the alternatives.
Looking for the Premier Hydro Jetting Company in Chicago Heights, Illinois?
As you can see, the VACALL All JetVac offers a variety of useful features — all of which help to make the sewer cleaning process quick, efficient, and cost-effective. If you're looking to use the All JetVac for your sewer line, and if you're looking for the top-rated hydro jetting company in Chicago Heights, the professionals at GreenLine Environmental Solutions are here to help.
We can quickly clean your sewer line, ensuring that it remains functional for the foreseeable future. Contact us today to schedule an appointment.