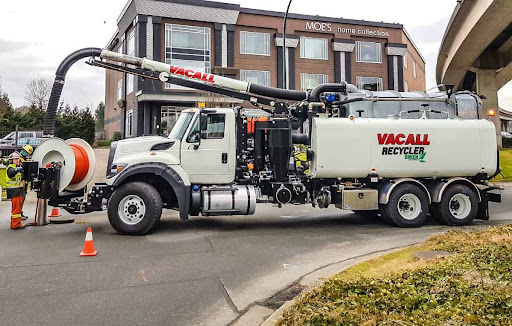 24 Aug

The Benefits of the VACALL All JetVac: Insights from a Hydro Jetting Company in Summit, Illinois

Over time, sewer lines become exceedingly dirty. If they're not cleaned, they can easily form clogs, causing sewage to back up into the corresponding home or business. As such, regular sewer line cleaning is strongly recommended.

Now, there are all sorts of ways to clean a sewer line. However, the recommended method is to utilize hydro jetting devices — the most effective of which is the VACALL All JetVac.

Are you interested in learning more about it? If so, you've come to the right place. This hydro jetting company in Summit, Illinois is going to discuss everything you'll need to know about the VACALL All JetVac below.
The Functionality of the VACALL All JetVac
When it comes to sewer line cleaning in Summit, nothing out-performs the VACALL All JetVac. With its long, high-pressure hose, this device is snaked through the dirty sewer line, spraying a high-pressure stream of water as it travels through. As it's doing this, it destroys clogs and blockages, thus leaving the sewer line void of all impairing elements.
After the hose has gotten to the end of the sewer line, it's slowly snaked back up. As this is happening, it continues to spray a high-pressure stream of water. The purpose of this water is to push the debris in a backward direction, where it can then be vacuumed up by the JetVac.
From there, the debris makes its way to the storage receptacle. This receptacle then stores the debris until it can be properly disposed of. At GreenLine Environmental Solutions, all waste disposal is done in an environmentally friendly and law-abiding manner.
Benefitting from the VACALL All JetVac
There are several benefits that you can enjoy from the VACALL All JetVac. These benefits include (but aren't limited to) the following:
Quick Cleaning
If the goal is to clean your sewer line as quickly as possible, there's no better device to turn to than the VACALL All JetVac. This device makes quick work of sewage grime, blasting it apart so that it can be quickly and efficiently vacuumed into the adjoining storage receptacle.
In most cases, a single pass through the sewer line is enough to produce an adequate cleaning. This is highly beneficial to you, the home or business owner, as you don't have to put your daily routine on hold for longer than necessary. In fact, with the All JetVac, a hydro jetting service in Summit shouldn't take more than a few hours.
Mess-free
Many forms of sewer cleaning are effective. However, some forms tend to leave a mess behind. This is particularly true of a method like sewer rodding.
Hydro jetting, on the other hand, leaves no mess at all, especially when it's done with the All JetVac. This machine never allows sewage to be exposed to an open area, ensuring that it remains contained throughout the entirety of the cleaning process.
Affordable
The All JetVac works at an exceedingly high speed. As such, it can typically complete the cleaning process in just a few hours. This time savings not only benefits the person facilitating the cleaning, but the homeowner as well. Less time spent equals less money paid, and a more affordable cleaning overall.
Looking for Hydro Jetting Services in Summit, Illinois?
Are you interested in using the VACALL All JetVac to clean your sewer line? Are you looking for the top-rated hydro jetting company in Summit, Illinois? If so, GreenLine Environmental Solutions has you covered.
Our team is well-versed in all aspects of sewer line cleaning for both residential and commercial properties, having used our hydro jetting techniques all throughout the Summit area. We can have your sewer line looking like new in no time. Contact us today to request a quote.