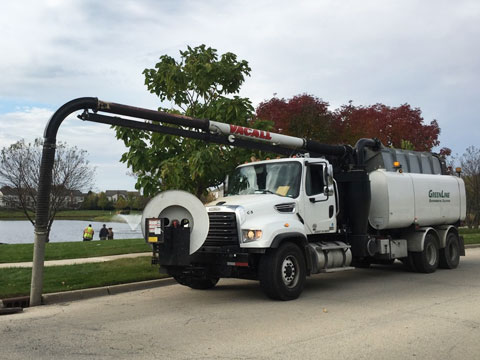 24 Jul

Hydro Jetting with the Help of the VACALL All JetVac: Insights from a Hydro Jetting Company in Chicago Heights, Illinois

When it comes to sewer line cleaning in Chicago Heights, no method is more effective than hydro jetting. Hydro jetting involves putting a hose down the sewer line and spraying water from a high-pressure nozzle to clear up any clogs in the sewer line.

At GreenLine Environmental Solutions, we carry out our hydro jetting services with the help of the VACALL All JetVac — a combination sewer truck that's specifically designed to clear sewer lines as effectively as possible. Are you interested in learning more about the All JetVac and our hydro jetting service? This hydro jetting company in Chicago Heights, Illinois is going to explain below.
How Does the VACALL All JetVac Work?
The VACALL All JetVac is specifically designed to clean sewer lines. Equipped with a large, powerful hose, it's sent down into the sewer line while spraying a high-pressure stream of water. This water is powerful enough to break through clogs and blockages, thus freeing up the sewer line from top to bottom.
Once the hose has reached the end of the sewer line, it's wound back up. As it's being wound back up, it continues to spray a powerful stream of water. This is done to push the debris in a backward direction, putting it in a position to be sucked up by the JetVac's vacuum.
After the debris is sucked up by the vacuum, it travels to the truck's storage container. This container then holds the debris until your Chicago Heights hydro jetting company can disposed of it in the proper channels. Here at GreenLine, we ensure that the disposal of all sewer waste is in keeping with all federal, state, and local regulations.
The Benefits of Using the VACALL All JetVac
The VACALL All JetVac offers several benefits. The most prominent of these benefits include the following:
Cleans Quickly
If you're looking for a clean and efficient hydro jetting service in Chicago Heights, there's no doubt about it — you should hire a company that uses the VACALL All JetVac. This state-of-the-art machine blasts through sewage grime without trouble, loosening it up so that it can then be vacuumed into the adjoining storage tank.
All it takes is one trip down the sewage line and back, and that line will be fully cleared and ready for use. This is great for you, the homeowner, as you don't have to let your property be overtaken for an entire day while the hydro jetting service is carried out. Give us just a few hours with the All JetVac, and we'll be out of your way.
Leaves No Mess
Sewer rodding services are an effective method when it comes to sewer line cleaning in Chicago Heights. However, it's extremely messy, and it can do quite a number on the property that's being cleaned.
If you want a mess-free sewer cleaning option, there's nothing better that the VACALL All JetVac. This truck takes sewage from the sewer line and directs it straight into a concealed storage receptacle. In the end, there's no risk of a mess.
Cost-Effective
Because the VACALL All JetVac can clean a sewer line with such little time and effort, it makes for some of the most cost-effective sewer cleaning services in Chicago Heights. Rest assured, this cost savings is passed on to you, the customer.
Looking for Hydro Jetting Services in Chicago Heights, Illinois?
Is your sewer line clogged? Are you looking to take advantage of the VACALL All JetVac? If so, and if you're looking for the premier hydro jetting service company in Chicago Heights, look no further than GreenLine Environmental Solutions.
Our professionals always use this high-tech sewer combination truck while performing hydro jetting services in Chicago Heights, Illinois. We can have your sewer line cleaned up and flowing like normal in no time. Contact us today to get started.