24 Jun

How Often Should Commercial Sewer Lines Be Cleaned? Insights from a Sewer Line Jetting and Cleaning Company in Elk Grove Village, Illinois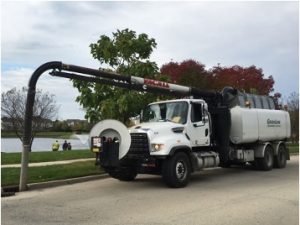 Maintaining your commercial sewer line in Elk Grove Village, Illinois is as essential as maintaining the health of your drain system. Commercial sewer lines are used differently than residential ones, which means they require unique cleaning and jetting efforts. But here's an important question — how often should your sewer lines be cleaned? A quick and straightforward answer is every 18 to 20 months. However, there are factors that can impact how frequently your sewer line needs to be cleaned. We're going to explain everything you'll need to know below.
Sewer Lines Need to Be Jetted or Cleaned Regularly
For the most part, sewer lines are hidden, out of sight, and out of mind. They are dirty, they are filled with contaminants, and they require regular jettings or cleanings. Clogs can form at any time, due to any reason, and lead to severe problems — all this without coming to your attention until something disastrous happens. Knowing when it's time to have these cleaned is the best way to avoid future costly repairs and prevent your Elk Grove Village business operations from suffering due to sewer problems.
Concerns with Problematic Sewer Lines
Preventing deterioration before it occurs should be the goal. Slow, backing up drains is one of the major occurrences that interrupt your everyday business processes. It also increases the chances of emergency service calls. In turn, you may incur expensive property damage, flooding issues, as well as costly cleanups.
Scheduling Sewer Line Cleaning and Jetting
Tree and shrub roots, accumulating grease deposits, as well as broken/corroding/sagging pipelines are the three primary culprits leading to a massive clog that further blocks the main sewage system. When a sewer line clogs, it affects many other surrounding drains and pipelines, which is likely to disrupt your business operations. As a result, finding a reliable sewer line cleaning company in Elk Grove Village, Illinois as soon as possible should be your focus.
As a good rule of thumb, you should schedule a sewer line cleaning service in Elk Grove Village, Illinois every year or so. This ensures the system is free from blockage and remains in pristine condition. It holds even more importance for commercial facilities that are high risk, for these have a greater disposal rate and must not go longer than the mentioned duration between each cleaning.
If you experience frequent backups, pooling water, gurgling pipes, slow or clogged drains, and other such warning signs, it is time to call professionals right away. It may require prompt and serious efforts to ensure the entire system is in working condition. However, if your preventative maintenance plans are in place, the system will work efficiently and prevent messy backups without leading to any dangerous situations.
Looking for Commercial Sewer Line Cleaning and Jetting Services in Elk Grove Village, Illinois
GreenLine Environmental Solutions has the equipment and skill necessary to offer advanced, cost-effective, and efficient sewer line cleaning services. If you are looking for sewer line cleaning services in Elk Grove Village, Illinois, we are the company to call. We offer safe, quick, and accurate services to all our clients. We have a team of qualified technicians who can handle different aspects of sewer cleaning and easily sort out any problem that's hindering the system.
Our team is ready to handle all your commercial sewer cleaning and maintenance needs in the Elk Grove Village area. When you partner with us, you'll receive upfront pricing, same-day emergency services, the best-in-class equipment deployment, great warranties, and advanced cleaning techniques. Contact us today to schedule an appointment or fill out the form on our website to request a free quote.