09 May

Four Must-Know Grease Trap Cleaning Tips for Restaurants: Insights from a Grease Trap Cleaning Specialist in Rockford, Illinois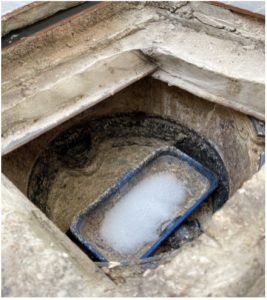 With so much going on in your restaurant kitchen in Rockford, Illinois, the grease trap could be taking a beating. Keeping it in pristine condition is critical for the successful operations of your business and avoiding environmental consequences. So, it's important to take the necessary steps to keep it clean. Our grease trap cleaning experts in Rockford, Illinois are going to share four must-know tips for cleaning the grease trap.
Understanding Commercial Grease Traps
Grease traps are a plumbing fixture to catch FOG (fats, oils, and greases), often observed in the food processing industry. These are either located near the sinks or underground to hold minor or thousands of gallons of waste. Water containing FOG passes from your kitchen drains and right into the grease trap tank. A system of baffles prevents FOG from seeping into the sewer line. However, a clogged grease interceptor can have disastrous effects, including emitting an on-going  stench, drain blockage, contamination, penalties, and business closure.
Grease Trap Cleaning Tips
Cleaning a restaurant grease trap in Rockford, Illinois isn't the most glamorous job. However, using these tips can certainly help ease the process:
Minimize the Mess
Talk to your staff and train your employees to follow good grease management practices. Always clear the drain filters and make it your goal to minimize any fats, oils and greases making their way to the grease trap. Place a screen on every food prep station and scrape off excess grease before washing off the utensils.
Ensure It Is Functioning Well
Take special care to ensure the grease trap is working well. Install it correctly and choose the right size. Inadequate installation and wrong sizing can affect the trap's functioning. It can lead to a massive leakage and cause other problems. Therefore, make sure you keep track of your grease trap cleaning schedule along with any issues you notice. Also, take note of when the system is due for another inspection or cleaning. If you do experience any breakdowns, a reputable grease trap cleaning company in Rockford, Illinois can make the necessary repairs.
Stick to the Routine
Restaurant FOG is one of the most common causes leading to stubborn blockages. As water passes through the drain, the pipelines can face difficulties in clearing the accumulated waste. It will contaminate the wastewater and further pollute the environment. Furthermore, the pipes will overflow and require expensive plumbing repairs. Sticking to a regular cleaning and maintenance routine will reduce sewer problems and prevent the grease trap from failing. It will keep foul odors away, which could put off your customers.
Invest In Professional Cleaning Services
Having a cleaning and maintenance schedule in place is helpful. But sometimes you need a little extra effort, which, no matter how trained you may be, can only be achieved with the best in class equipment and expert know-how. Skilled and knowledgeable grease trap technicians in Rockford, Illinois have the ability and equipment to handle even the toughest of gunk and grease. If you need help with a blockage, schedule an appointment to get an expert analysis.
Looking for a Grease Trap Cleaning Company in Rockford, Illinois?
Are you looking to clean, repair, or replace your restaurant's grease trap system? If so, GreenLine Environmental Solutions is the company to call. We offer specialized grease trap cleaning services in the Rockford, Illinois, area. Our crew is also well versed with local disposal guidelines, to dispose of waste appropriately.
Contact the experts at GreenLine Environmental Solution today at 800-755-2510 to request a free quote.