24 Mar

Reasons to Consider Professional Sewer Line Cleaning: Insights from a Storm Sewer Line Cleaning Company in Aurora, IL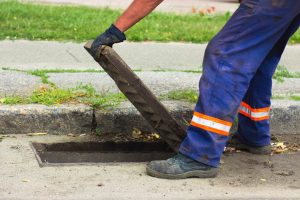 As your storm sewer lines accumulate foreign sediment and debris, regularly scheduled cleaning becomes a necessity to retain your drainage system's ability to function as intended. Instead of going it alone, you may want to hire a storm sewer line cleaning company in Aurora, Illinois for the job. Here are some of the most significant advantages of scheduling regular sewer line cleaning in Aurora, Illinois, by a professional:
1. Preventing blockages.
One of the biggest challenges faced by restaurants and other businesses producing a fair amount of Fats, Oils or Grease (FOG) is the blockage along the sewer pipe walls. If left unchecked, this blockage can ratchet up into full-blown clogging, resulting in backups, overflows, and even floods. However, making sure that your storm sewer lines are cleaned regularly by an Aurora sewer line cleaning company will ensure that your establishment runs smoothly and "clog-free" even during peak hours.
Disruptions in water flow caused by a blockage along sewer pipe walls can also be a source of squeaking and cracking noises loud enough to be heard through the walls. Professional storm sewer line cleaning in Aurora, IL, removes the blockage and, in doing so, eliminates the disruptive sounds as well.
2. Reducing stress on plumbing.
Cleaning your establishment's storm sewer lines regularly will ensure that your plumbing fixtures remain clean and clear of any build-up that could pose problems down the line. As you might expect, this helps prolong the life of your drainage system.
3. Eliminating foul odors.
The build-up of waste in the drainage system can lead to foul odors permeating your entire establishment. Alas, the sources of these odors are pretty much undetectable without the expertise, experience, and equipment that a professional Aurora storm sewer line cleaning company brings to the table. In other words, you will likely be stuck with the odor until you get your storm sewer lines professionally cleaned.
4. Protecting against biohazards.
Depending on your business type, backups from clogged drains could pose serious risks to your employees, visitors, and customers. Storm sewer line cleaning specialists can help ensure your drainage system is clean and clear of obstructions, which will prevent contamination of work areas.
5. Eliminating clean-up costs.
The cost of cleaning and sanitizing work areas after a plumbing issue can be substantial. Not to mention, poorly maintained and clogged drainage systems can lead to corroded pipes that may end with water leaks and increasing water bills. By taking proactive action and hiring a storm sewer line cleaning company to avoid these problems from occurring in the first place, you can eliminate these redundant expenses and protect your business from the other nasty side effects of blocked storm sewer lines.
6. Staying in compliance with local codes
Regularly scheduled sewer line cleaning in Aurora, IL, can help you keep your business on the right side of the local municipality and health department codes — this is especially important if you are in the restaurant or food service industry.
Professional Storm Sewer Line Cleaning in Aurora, Illinois
GreenLine Environmental Solutions offers high-quality storm sewer line cleaning services to businesses across the Aurora area to help them deliver the best customer service without interruptions or delays. Our team of seasoned tank technicians utilizes hydro-jetting and rodding techniques for cleaning dirty and clogged storm sewer lines as efficiently as possible.
Contact our office at (800) 755-2510 or contact us online today for more information.  We provide free consultations and free estimates.  No project is too big or too small.