09 Jan

Sewer Line Rodding in Bedford Park, Illinois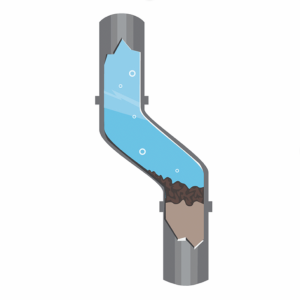 Does your Bedford Park, IL, property regularly experience clogging? Is the sewer line backing up? Do you feel that the plumbing system hasn't been working efficiently as of late? If so, you could benefit from a safe, quick, effective, on-time, and long-lasting solution — like sewer line rodding. It's a traditional and cost-effective technique that effectively removes any clogging in your drainage system.
Things to Know About Sewer Line Rodding
Your sewer lines could be blocked due to a number of reasons. There can be roots or bushes growing due to water and moisture; you could have a grease blockage; there could be garbage, mud, or dirt accumulating; or hygiene products may be clogging the water flow. In some cases, these clogs could become so severe that the drains are backing up everywhere on the property.
Sewer line rodding is often the only method that can cut through even the toughest of roots, eliminate blockages, and restore the pipelines to their near-original conditions. However, it's a somewhat complicated process. Here are a few things you should know about sewer rodding:
1. It Is a Dirty Job
Yes, it's a very dirty job. But once it's done, the technicians will thoroughly clean up the mess. Some service providers will also provide deep cleaning in the surrounding areas to ensure complete sanitation.
2. This Isn't a DIY Job
You can buy many of the tools from nearby hardware stores, but if you don't have the necessary expertise and know-how, DIY can be more damaging to your plumbing system than good.
3. It Can Fix Numerous Blockage Types
Rodding is great for fixing and preventing future difficulties with many different types of blockages. It clears the drains effectively and restores the water flow, getting the system to run smoothly once again.
4. Rodding Requires Specialized Equipment
The sewer rods used for the process are specifically designed for the purpose. Flexible cables with a teeth-like head are screwed end to end, and you won't find these at just any store. All of the equipment used for fixing sewer issues demands a detailed eye and tools that are specialized.
5. The Solution Is Affordable
Even when you hire professionals, it's an affordable and straightforward option. You can find economical and tailored packages at GreenLine Environmental Solutions. We provide budgeted, safe, and efficient services to homeowners and large industrial companies, municipalities, as well as small businesses.
6. It Is Accurate and Reliable
Rodding is an incredibly accurate and steady process. Clogging may result in hazardous conditions, but rodding is the single most effective option for removing the obstructions. Plus, it's an excellent option if you only want to address specific sections of the plumbing system and not disturb the areas that already are in pristine condition.
7. Increases the Lifespan of Your Plumbing System
Without affecting your pipes' structure or foundation, clearing the system every 18 to 20 months only increases its efficiency and adds to its lifespan. It also prevents future issues from emerging, and you're less likely to run into costly repairs down the line.
Request Sewer Line Rodding Services in Bedford Park, Illinois
If your mainline or other drains are clogged, a qualified and licensed company can perform a thorough inspection and suggest the most suitable solution. Fortunately, for Bedford Park home and business owners, the GreenLine Environmental Solutions team is here to help. Our professional and friendly rodding experts are always on standby.
For better assistance, you can contact the GreenLine team at 800-755-2510 or fill out this contact form to schedule an appointment, and we'll get right back to you. You can also chat with our live representatives online to discuss your needs. We're one of the most trusted businesses in Bedford Park and the surrounding areas throughout Chicagoland. You can count on our expertise!